Commons Cargo bike initiatives meetup in Augsburg, Germany. Photo: Timo Schmidt
---
More than 80 non-profit initiatives win the German Bike Award ("Deutscher Fahrradpreis") in the category "service" – bottom-up mobility transition made possible by sharing cargo bikes on a donation basis.
Making the mobility transition happen – together! That is the common goal of the "Commons Cargobike Union" ("Forum Freie Lastenräder"). It started with a single cargo bike on the streets of cologne: "KASIMIR – your cargo bike", established by the non-profit association wielebenwir e.V. KASIMIR is a "commons cargo bike": KASIMIR is free to lend and uses local community Centers and cafés as pickup locations, facilitating an alternative method of transportation in the spirit of commons.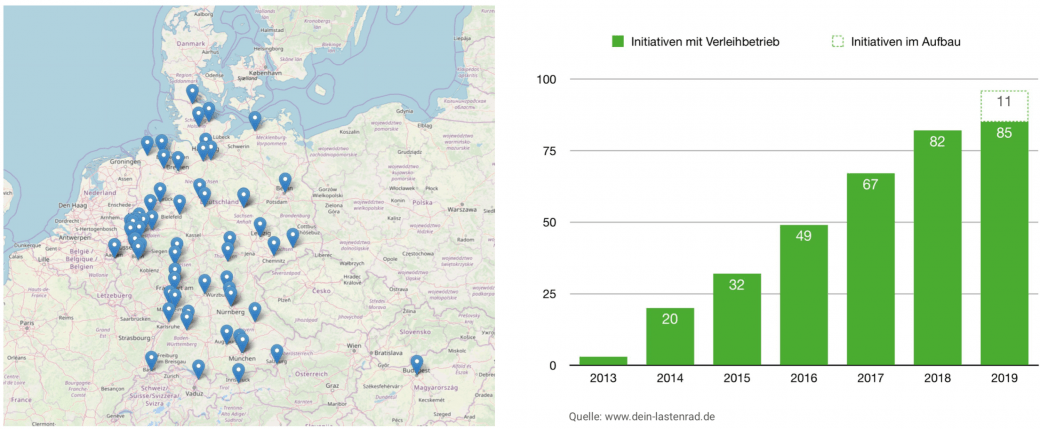 With the "German Local Sustainability Prize "Zeitzeichen" and the "German Mobility Award", the "German bike award" is already the 3rd major prize for the sharing initiatives.
---
A "Commons Cargobike":
provides lending of cargo bikes to society free of charge.
is a "common good": to be shared instead of individually owned.
is advocating for a change of mind in urban transportation, and represents resource conservation & sustainable traffic.
promotes neighborhood cooperation: Cafés, private citizens and social facilities are acting as pickup location.
---
Union of Commons Cargobike initiatives
"Forum Freie Lastenräder" ("Union of Commons Cargobike initiatives") is the alliance of more than 85 local sharing initiatives in Germany, Austria and Hungary that provide free cargo bike lending to the public. With more than 200 bikes, the "FFL" is an important part of the bottom-up-mobility transition. We offer a open-source booking software CommonsBooking (Version 2 is under development), a online knowledge base and handbook for how to start your project, and a yearly conference.
Learn more and join us at dein-lastenrad.de
---
---
The open-source software CommonsBooking and related projects that power the Commons Cargobike movement are supported by: Anstiftung, ADFC Essen, Essener Lastenräder, ADFC Bundesverband, ADFC Dresden, ADFC Hamburg / Klara – das kostenlose Lastenrad für Hamburg, BMBF: Bundesministerium für Bildung und Forschung, Bonn im Wandel, Bolle Bonn, Deutsche Postcode Lotterie, Das Commons-Institut, fLotte Berlin, Freie Lasten – Dein Lastenrad in Marburg, Prototype Fund, Velogistics